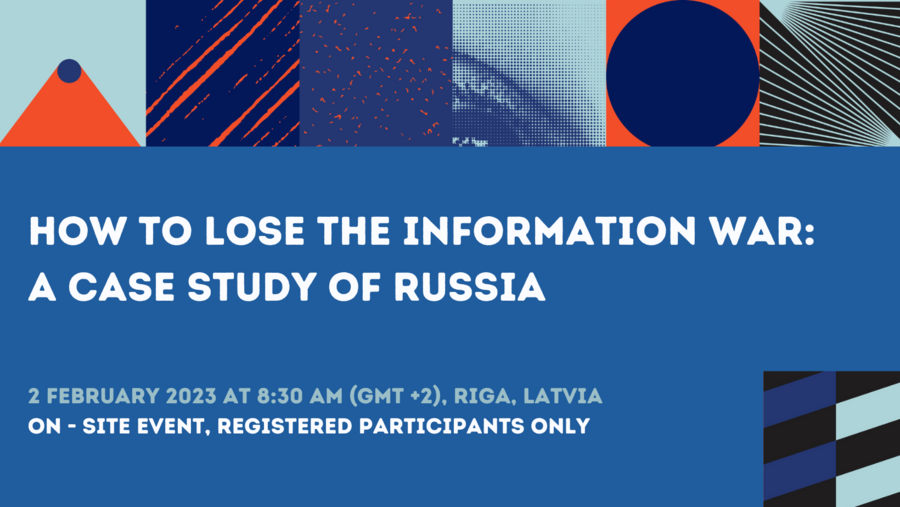 Russia's invasion of Ukraine has threatened values that underpin the rules-based international order: human rights, peace, security, self-determination, and national sovereignty. Throughout the years, NATO Strategic Communications Centre of Excellence has studied information manipulation as an integral part of the malicious influence campaigns, and Russia's unprovoked military aggression against Ukraine has once again emphasized the importance of information warfare.
We invite you to the annual presentation of our latest research reports that is set to take place on 2 February 2023, from 8:30 AM to 12:30 PM (GMT +2) at the AC Hotel by Marriott Riga (Dzirnavu Street 33, Riga, Latvia).
This year, our research was largely focused on analyzing Russia's aggression across various domains with an emphasis on its information war and unsuccessful attempts to legitimize its aggression towards Ukraine both domestically and internationally.
Event Agenda
8:30 - 9:00 Registration and morning coffee
9:00 - 9:10 Welcome remarks by Mr. Jānis Sārts, Director of the NATO Strategic Communications Centre of Excellence
9:10 - 10:30 First Session
"Analysis of Kremlin communication strategy for Russian audiences before and after full scale invasion to Ukraine" (Mr. Viktoras Dauksas, Debunk.org, Dr. Neville Bolt, Kings College London)
This research covers two phases of Russia's activities in the domestic information environment - the military conflict escalation phase (from 01.10.2022) and actual war phase (from 24.02.2022 until 31.03.2022). The research looks at the patterns of Kremlin communication to domestic audiences by analyzing narratives and observing how the communication of the government officials changed during the conflict escalation period and after the first attack on Ukraine. The study also looks at the physical movement of Russian Armed Forces during both phases.
"Dragon's Roar and Bear's Howl: Convergence in Sino-Russian information operations in NATO countries?" (Mr. Yukai Zeng, NATO StratCom COE)
Russian – and increasingly also Chinese – information operations have in recent years been at the forefront of the threats assessment in NATO countries. The concerns about China's power and its challenge to the existing Western-led international order, together with its attempts to increase its information influence, make the Chinese efforts in the informational domain a strategic and security issue, leading to its explicit inclusion in the new NATO Strategic Concept at the Madrid 2022 summit. Russia's 2022 full-fledged invasion of Ukraine dramatically raised the stakes in countering the longstanding Russian influence operations in the NATO countries. While there has been growing similarities in China's and Russia's information activities, there also continue to be important differences. This report examines both countries' information activities, discusses areas of convergence and differences, and implications.
10:30 - 11:00 Coffee break
11:00 - 12:20 Second session
"Virtual Manipulation Brief, Issue 1/2022: Russia's Struggle to Circumvent Sanctions and Communicate its war against Ukraine" (Dr. Rolf Fredheim, NATO StratCom COE)
The Virtual Manipulation Brief is tracking how Russian bots and trolls manipulate the flow of information online. It expands the area of focus beyond the conversation about NATO to Russia's war against Ukraine. And it will look beyond Twitter and VKontakte to track how antagonists use other social media platforms to disinform the public. This report also examines how social media usage in Russia changed since February, as well as shows how the Kremlin propagandist Margarita Simonyan moved her communication to Telegram to evade sanctions directed at RT.
"Information laundering as a tool of the Russia-Ukraine war? A network analysis of the Balnews Telegram channel" (Ms. Martha Stolze, NATO StratCom COE)
This study uncovers a specific form of information influence campaigns: Information Laundering (IL) and reveals that apart from increasingly amplifying Kremlin-official media since February 2022, like Sputnik, RT or RIA Novosti, the Baltnews Telegram channel has also increasingly spread cases of IL, by nature a more covert technique of audience manipulation. In the process of IL, information of Western news articles was manipulated and spread on Russian-domain websites, later reaching Nordic-Baltic websites and the Baltnews Telegram channel. The study thus demonstrates how Russian-domain and Kremlin-official media systematically draw from and amplify content published in the Western press that can be made to align with their own messaging as part of information influence campaigns.
12:20 - 12:30 Closing remarks
To register for the on-site event, follow this link.
Recorded research presentations will be available on the COE's YouTube channel shortly after the event.