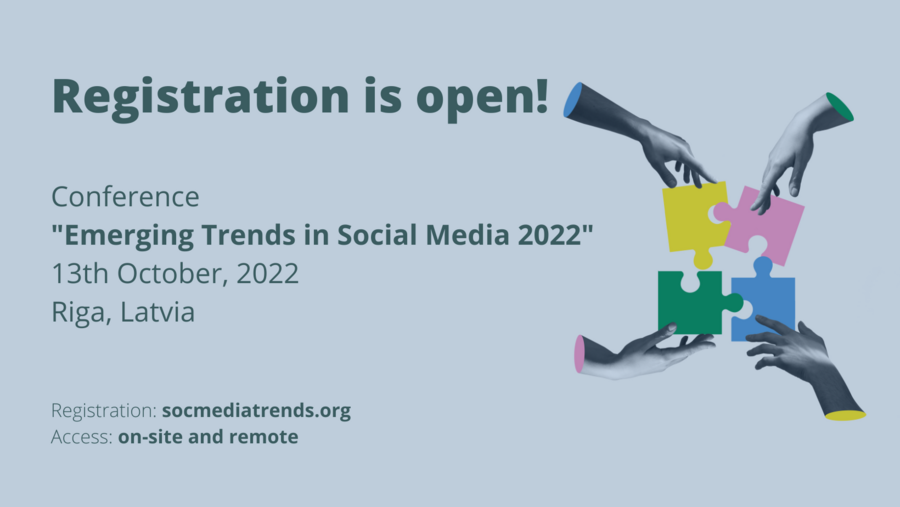 Interested in being on the top of your game with social media? Book your seat at the conference "Emerging Trends in Social Media 2022"!
Registration for the conference "Emerging Trends in Social Media 2022" is now open and accessible for participants aiming for both an on-site participation and online access. Please note that seats for the onsite participation are limited, so follow the link to the event website socmediatrends.org to secure your seat!
We have seen how adversaries are weaponizing social media to achieve malicious aims, while at the same time it has become the primary source for information for a significant part of society. The information space on social media presents both unlimited opportunities and threats. Governments, agencies and private actors now face an issue of adapting to the double-faced nature of social media when delivering their messages.
During the recent years, the conference "Emerging Trends in Social Media" has served as a platform for discussions on how the threat aspect of social media has developed over time and reshaped the information environment as we know it.
This year's conference aims to tackle such issues as how governmental organizations and private actors can benefit from strategically applied communications on social media. Among other topics, the conference agenda include addressing translating academic and theoretical knowledge into a practical setting and how social media could be used for a better governance. Panel discussions will also review lessons learned from theatre and best practices from the private sector on how to use social media effectively and ethically.
PRELIMINARY AGENDA
Keynote: Strategic Use of Social Media
Panel: Governance in the digital age: how to use social media to benefit society
Keynote: Using technology to fight coordinated disinformation campaigns
Panel: Society and social media: thinking beyond commercial gains
Panel: Exploring modern battlefields: war and social media
Register now on socmediatrends.org!
Media representatives are invited to participate in the conference by completing the accreditation form.