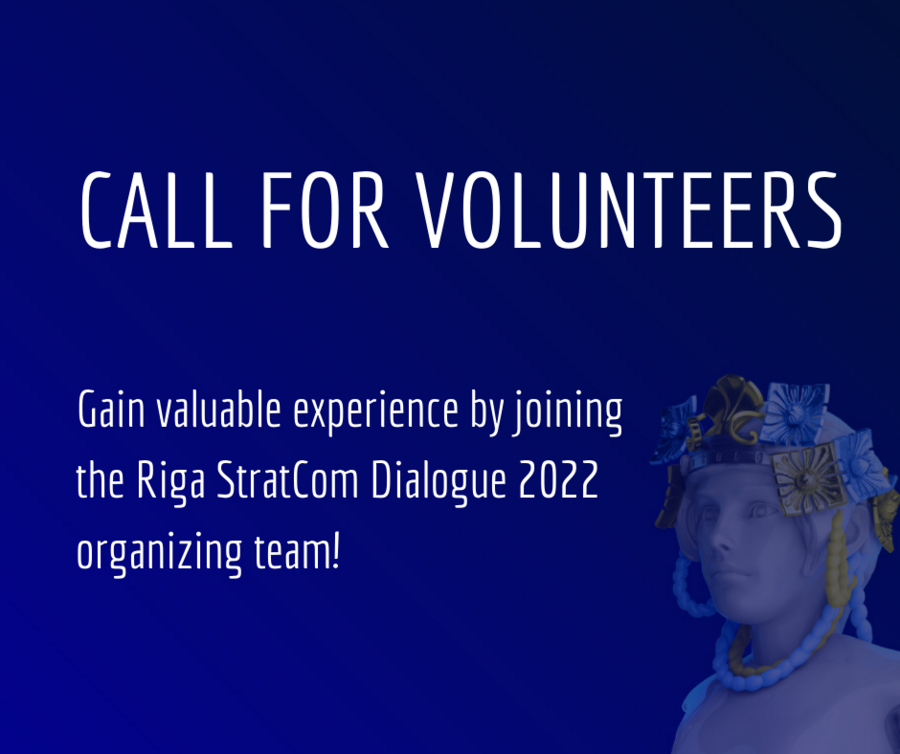 NATO Strategic Communications Centre of Excellence is looking for volunteers ready to support the COE with their energy, experience and skills! Join our team of volunteers and become a part of the biggest conference on defence and strategic communications in the region – RIGA STRATCOM DIALOGUE 2022 and help us run the conference smoothly.
If you are:
Fluent in Latvian and English;
Interested in strategic communications, defence and security;
Good at working under pressure and making decisions on your own;
Happy to work in a multicultural environment.
We offer:
A chance to meet experts, policy-makers, academics, and practitioners who are shaping the current debate;
To see a high-level event from the organisers' point of view;
An unforgettable experience in organising an international conference.
Schedule and responsibilities:
18.05.-24.05.: Intermittent (not all days) assistance needed in the week prior to the event with various tasks;
25.05.-26.05.: Conference RIGA STRATCOM DIALOGUE 2022
Work during and prior to the conference will involve welcoming guests, assisting with organising materials for the event, registration of onsite attendees, providing information to guests, tracking session participation, logistical support, media and other technical assistance.
To apply:
Tell us about yourself by submitting your CV and a short (up to 600 characters) cover letter in English via email to volunteers@stratcomcoe.org by 15th May 2022 by 23:59.